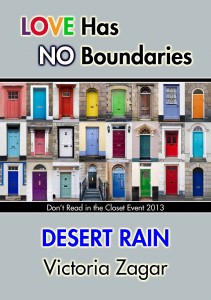 PHOTO DESCRIPTION:
A red-haired man in an Army National Guard uniform touches his friend's face tenderly. They both look agonized by the touch. There is a spark in their eyes that speaks of forbidden love and desire.
STORY LETTER:
Dear Author,
That look he's giving me is making it so hard to leave, but I have no choice. My fingers on his chin right now is the most intimately I have ever touched him. I wonder what he would do if I kissed him? Would it be fair to him?
Help!
Sincerely,
Kathleen
PS: I prefer emotion without heaps of angst, no bdsm, no cheating, no jumping into bed (better to have no sex than superfluous sex) and please give these boys an HEA. Also slow burn and UST are awesome. 😀
PPS: Yes I know this is a depiction of characters from a television show but please DO NOT make this based on those characters. Thanks!
STORY INFO:
Genre: contemporary
Tags: military, sweet no sex, religion, bullying, friends to lovers
Content warnings: HFN
Word count: 8,764
Desert Rain on Goodreads

PDF | Mobi | ePub
Review Desert Rain on Goodreads