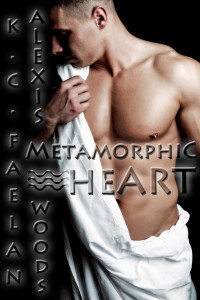 PHOTO DESCRIPTION:
A virile, young Greek warrior kneels before a white marble column. He wears brown pteruges around his waist, bracers on his forearms and greaves on his lower legs. One arm is crossed over his body to grip the handle of his still-sheathed sword. His stare is intense and piercing, even as a host of green snakes slither down the column above his head.
STORY LETTER:
Dear Author,
Around the museum, the streets were filled with the din of the city. Cars honked noisily, drunken revellers heckled and laughed. Somewhere in the darkness, the wail of a police siren called out.
Inside the museum it was quiet. Moonlight streamed in through a skylight, bathing the Grecian exhibit in a pearlescent glow. At the exhibit's centre was the sculpture of a young man, who was garbed in warrior gear. As the moon's luminescent beams danced across his muscular body, the statue began to change. The milky marble evaporated, replaced with the hue of tanned skin. The sculpture moved.
He was a statue no longer; he was a man once again.
The warrior sucked in a breath, filling his lungs for the first time in centuries. He blinked his eyes, and surveyed his surroundings.
The last thing he remembered was fighting the gorgon that had been plaguing his village. He was about to cut the monster's head off, and then… nothing.
That's when he realised how terrible his situation was. Those lucky enough to awaken from a gorgon's curse did not live for long. Inside his chest, his heart was still set in stone. The enigmatic energies that had revived him, would not sustain him for long. If he wished to restart his unbeating heart, he would have to find and kill the gorgon responsible for cursing him.
But first he needed to find himself an ally; someone to help him manoeuvre through the strange modern world…
Sincerely,
Dayton
STORY INFO:
Genre: contemporary, fantasy
Tags: 2 alpha males, bartender, explicit, slow burn, writer, warrior, mythology, Gods, stalking, tattoos, time travel
Content Warnings: violence, battle scenes
Word Count: 113,218
Acknowledgements
First and Foremost― We'd like to thank the Goodreads M/M Romance Group, for not only putting together this event, but also because without your group, we, the authors, would never have "met."
Then we need to send out some love and hugs to Debbie McGowan, our editor. A busy editor, publisher and writer herself, she took time out of her busy schedule to help polish up our story.
Before it got to Debbie though, we had a spectacular group of Beta readers: Wulf Godgluck, Eric Alan Westfall, Michelle, and Kristan. And we can't forget Jonathan Penn. The dear man put up with us through quite a few crazy three-way Hangout sessions regarding wording and grammar.
We'd also like to thank Noah Homes for his time and skill in creating the great cover for Heart. Thanks, Noah.
Throughout Metamorphic Heart is a plethora of Greek words and terms. We had assisting us Astrid Kienitz, who provided us with the Greek translation for our longer passages of text, and she did an amazing job. Thank you, Astrid.
Last, but not least, to Dayton, who fired up our imaginations with his prompt. We thought Heart would require about 35k to complete, instead it ended up surpassing 100k, the longest story either of us has written.
Authors' Note
Metamorphic Heart contains many of the Greek Gods of mythology. At the end of our story, is a list of all those contained therein and their relationships to the other Gods.
While writing our story, we utilized a Pinterest board for character and plot inspirations. You can find our board here: https://www.pinterest.com/kcfaelan/metamorphic-heart/
We've done our best to provide you, the reader, with enough information to understand the Greek words and terms as they stand in our story without providing a glossary of terms. As with any historical work, information is gained through research. However, at times, we may have deliberately overlooked or sacrificed some terminology and culture-isms for the sake of the story. Any errors within are "our" mistakes.
EVENT: Love is an Open Road
Metamorphic Heart on Goodreads
ePub | Mobi | PDF
Review Metamorphic Heart on Goodreads