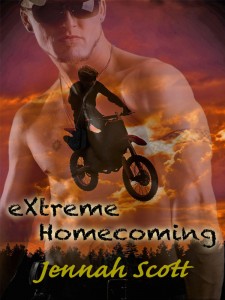 PHOTO DESCRIPTION: 
The prompt picture for eXtreme Homecoming is a single person, black and white photo. The man― who turns out to be Hunter― is sitting down, looking at the camera like he's deep in thought. He's holding his bike helmet to the top of his head and wearing his riding glove. Tattoos cover three-quarters of the one arm showing and his elbow is propped on his knee. To me this picture was one of contemplation.
STORY LETTER: 
Dear Author,

I don't talk about my past. Ever. My tattoos are all the reminder I'll ever need. "Don't look back. Don't back down." That motto's gotten me to where I am today. I dragged myself out of the gutter and hell itself to be able to live the dream life as one of the top Xtreme Sports athletes in the world. So what if I'm a bit of an adrenalin junkie. I've got girls screaming my name and throwing themselves at me every chance they get. Too bad that'll never be what turns my crank. Any dream I could have had, of a happy future with that one person who might just be the other half of your soul, was destroyed long ago. Well fuck it all anyway! Whoever said you could have your cake and eat it too was a goddamned liar. Lord knows you can't be gay in this world, not at this level. Besides without him it's not like there's any point.
***I love reformed bad boys, more than a little snark, and a HEA is a must. While I love the paranormal world as well, this guy just called to me, granted if someone wants to take a swing at throwing that in there with the kitchen sink I'm not going to complain. 😉 

Sincerely,

Shelby
STORY INFO:
Genre: contemporary
Tags: new adult, military men, motocross, oral sex, established couple, homecoming, sports, reunited, tattoos
Word Count: 7,908
Author's Note
This is my first Don't Read in the Closet event, and I'd like to take a quick second to thank a few people. First, to the volunteers of the Love's Landscape event, thank you for your time and dedication. You've made it easy as an author to participate and enjoy the event. Shelby: thank you for the great picture and prompt. I've wanted to write a sports-themed story and your picture and prompt gave me the chance. I couldn't have finished this story without my betas: Amy, Lori, and Valerie. Lastly, thank you Andrea and Pamela for helping name Hunter and Bastian! I hope you all enjoy Hunter and Bastian's story; it was a lot of fun to write.
EVENT: Love's Landscapes
eXtreme Homecoming on Goodreads
ePub | Mobi | PDF
Review eXtreme Homecoming on Goodreads