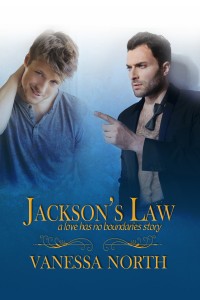 PHOTO DESCRIPTION:
He pulls back his jacket and shirt with one hand, revealing a rock-hard abdomen and hirsute chest. His pink bow-tie hangs to one side, and his pants are undone. A constellation of moles scatters across his body, inviting…
STORY LETTER:
Dear Author,
I've always had a thing for moles. Don't know what it is about them, they just do it for me. I've been through a bit of a dry spell, so it kind of grates that my roommate's asshole of a brother is a wet dream come true. Better to stay away and keep to myself— but then this happens, drunk and smirking, this is what he shows me.
Yes, I want him all over me, but this can only end in tears, right?
Sincerely,
Alex
STORY INFO:
Genre: contemporary
Tags: enemies to lovers, in the closet, gay chicken, lawyer, mole fetish, piercings
Word count: 8,546
Jackson's Law on Goodreads

PDF | Mobi | ePub
Review Jackson's Law on Goodreads