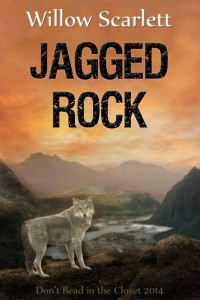 PHOTO DESCRIPTION:
Photo 1: A young man with tattoos and short hair looks away from the camera, dressed in black pants low enough to show underwear, and a black leather hooded jacket open to show his well-defined chest.
Photo 2: A tattooed and well-defined young man with diamond stud earrings looks at the camera, posed shirtless on a chair.
STORY LETTER:
Dear Author,

Meet Will and Connor.
Will: So, a couple things. I'm a werewolf. I met my mate back in middle school, at the time I didn't quite understand why I was so drawn to Connor, why I was so protective of him and couldn't stand being apart. Now that we're older I get it. I feel like a guardian angel sometimes, making sure he's never hurt and always happy. The thing is, he has no idea that werewolves exist, let alone his best friend is one. Man, I'm not looking forward to that conversation or the fact that eventually (soon) I'm gonna have to bite him and claim him (that part I'll admit I'm excited for :)). 
Connor: Hi, I'm Connor, I'm known to be kinda shy. Let's see, I'm in a band, I drum. I'm a freshman and share a dorm with my best friend Will. We've basically been inseparable since middle school. Will sings for our band and is amazing. He's always been there for me, from the second I moved to our hometown all those years ago, he took me under his wing. The problem? I'm so totally in love with him. I'm so not looking forward to that conversation, but I feel like the time's coming to tell him, before someone else grabs him up.
* These shifters can be born (Will) or turned (Connor) and have one true mate for life (no ménage!) I would love to have the conversation where Will tells Connor he needs to bite him to have some humor 🙂
** Also, Will knowing that Connor is his mate since middle school absolutely would not have hooked up with anyone else ever, Connor is super shy and in love with Will, so yes they are both virgins 🙂
Sincerely,
Carey
STORY INFO:
Genre: contemporary, paranormal
Tags: college, first time, friends to lovers, musicians/rock stars, shifters, soulmates/bonded, tattoos
Word Count: 96,417
EVENT: Love's Landscapes
Jagged Rock on Goodreads
ePub | Mobi | PDF
Review Jagged Rock on Goodreads