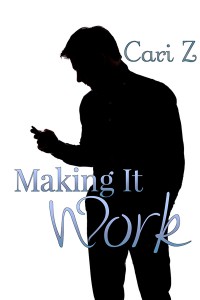 PHOTO DESCRIPTION:
A handsome silver-haired man stares into the camera, leaning his head against one hand. He's backlit by the sun, and his face and bare chest are in shadow. He appears both intent and faintly amused, and it's hard to look away from his smoldering eyes.
STORY LETTER:
Dear Author,
I'm sending this on behalf of my boss of whom the picture depicted. Been working with him a couple of years as his law firm as his secretary replacing a string of female secretaries in just a few months.
He's not difficult to work for, my boss is. Honestly. I just think my successors expected too much from him… outside of work. I mean, look at his face! Admittedly, even I have a bit of crush on him. But even I had to face the fact that he's way, waaay out of my reach. Come to think of it, he's never had any romantic involvement with anybody during the years I've worked for him. The only dinner, lunch, or breakfast reservations I have had to make for him were either for work meetings or with his folks. Which reminds me, I have to make one soon for the latter as his folks are coming for a visit the day after tomorrow.
As courteous as he'd been with them, my boss doesn't really seem close or comfortable with his elders. He gave me a short version of his not-so-happy-happy childhood earlier in my days so that I stopped yapping at him to buy meaningful gifts for them. As kind and quiet my boss is, he can be quite stern when he rebukes me. I find this quite sexy, but please don't tell him I say so.
So, dinner reservations for three on next Friday evening… Wait, is that a "4" he wrote in my agenda or I need to have my eyes checked? It IS! Does this mean he'd bring a date to meet the 'rents? How did I miss this? I didn't see him behaving any differently around the office. People who date should've shown some symptoms, shouldn't they? And how come I never known that he's gotten close with anyone; male or female? I'm with him almost 12 hours a day! Well, at the office, on the phones, etc., etc.
I've got to find out more about this!!!
Sincerely,
Didi
STORY INFO:
Genre: contemporary
Tags: lawyer, age gap, friends to lovers, humorous, over age 40, slow burn/ust
Word Count: 17,860
Dedication
Huge thanks to Tiffany, Caitlin and Eloreen, without whom this would have three times as many mistakes. You're all so good to me.
EVENT: Love's Landscapes
Making It Work on Goodreads
ePub | Mobi | PDF
Review Making It Work on Goodreads