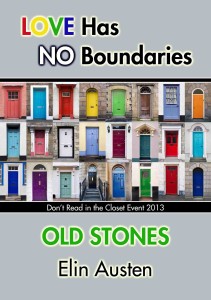 PHOTO DESCRIPTION:
A priest holds an axe over the chains of a second man… a prisoner, preparing to strike. Do these two men know each other, maybe from childhood? Why did they go down separate paths and how did they end up here?
STORY LETTER:
Dear Author,
As you see, one of these men is priest, other escaped prisoner. I feel they knew each other since boyhood. How could they end in so different paths? What it was that broke their friendship?
Please no BDSM, D/s, poly, no evil females.
I don't mind if there is no sex or if the story is not HEA— write as your muse dictates you.
Bonus for historical fic, amateur detective work, revenge.
Thank you 
Sincerely,
Anna

STORY INFO:
Genre: 20th century historical
Tags: captivity, in the closet, men with pets, priest, researcher, religion, postwar-WWII
Word Count: 8,871
Old Stones on Goodreads

PDF | Mobi | ePub
Review Old Stones on Goodreads