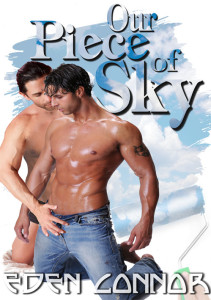 PHOTO DESCRIPTION:
A tattooed man with a stubbled jaw peers at the viewer from under his raised arms, white tank caught around his elbows. At the bottom of the frame, green briefs with a white waistband are barely visible. He has stars on both pecs, and his left nipple is pierced. More tattoos are visible on the underside of both biceps, across his upper abdomen and below his navel.
STORY LETTER:
Dear Author,
"I've wanted my best friend for years. He says I'm 'not his type' and we're 'just friends'. I've got plenty of friends but none of them act like he does— sitting so close, wrestling with me, wanting to spend all our time together… When we're at the pool or when I stay over at his house, he just can't keep his eyes off me. Well, I've had enough. If he's not willing to admit he's interested, I'll make him look at me until he can't deny it…"

I just love this guy's sexy challenging expression (and of course, the great body/tattoos/piercings/beard!)— he looks like a confident guy who gets what he wants.
I want to leave it open to the author whether it's friends-to-lovers between out guys or if it's gay-for-you.
Enjoy, hope it inspires someone 🙂
Sincerely,
Willow Scarlett

STORY INFO:
Genre: contemporary
Tags: friends to lovers, in the closet, religion, bears, blue collar, prejudice, hate crimes, kittens, labels
Content warnings: graphic violence; One cat had to be sacrificed to make this story work, but her death was an accident. Two brutal assault cases form the backbone of this story and both are vividly described.
Word count: 25,813
Author's Note 
The two legal cases forming the crux of this story are real-life events. Both well-publicized assaults took place in South Carolina, but they happened a decade apart. It's long been on my heart to put the incidents side-by-side in one story, because of the stark similarities in the attacks— and the inexplicably disparate sentences for the perpetrators. I've changed the names of the victims, of course, and moved them to the same town, but the essential facts are correct as presented. I'd also like to take this opportunity to point out an underlying fact a few readers won't know, a fact that might affect your perception of this little tale. In 2006, Amendment One, the addendum to the South Carolina constitution banning gay marriage, passed by a state-wide margin of seventy-eight percent. Let that sink in. Almost eight out of ten people believe with their heart, with their soul, and with their voter's registration card, that being gay is "an abomination in the eyes of God". Thank Heaven for the handful of naughty, rebellious liberals down at the coast, for their votes are the ones offsetting the ninety percent who voted for Amendment One in the upstate county where this story takes place.
I only try my hand at writing m/m for this group's wonderful Dear Author event, so thank you for humoring me in my effort. ~E
Our Piece of Sky on Goodreads

PDF | Mobi | ePub
Review Our Piece of Sky on Goodreads