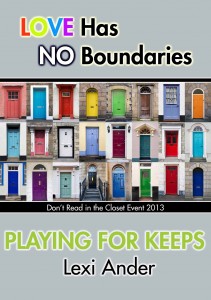 PHOTO DESCRIPTION: 
Two blond men with short crew cuts are caught in a deep, openmouthed kiss. A third man stands slightly apart and behind the shorter man, with his arms at his waist tugging up his T-shirt. He is reaching around him to stroke the smaller man's stomach.
STORY LETTER:
Dear Author,
These men love each other and are happy together, but one of them (the one on the left) is starting to succumb to the pressures of being in a ménage à trois. Something the outside world doesn`t even want to try and understand. He's not sure if he should let them go, so at least they can be together without all the added stress their kind of love brings. But doesn't he know they will never let him go.
Please no D/s or BDSM and a very HEA would be appreciated.
Sincerely,
Mandy
STORY INFO:
Genre: contemporary
Tags: M/M/M, college, sports, military, assholery, foot-wrangling, established relationship, blackmail, don't mess with the mom
Word count: 22,596
Playing for Keeps on Goodreads

PDF | Mobi | ePub
Review Playing for Keeps on Goodreads