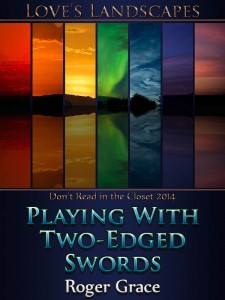 PHOTO DESCRIPTION:
Two young adult males in Victorian era clothing lean against each other on a wall. At least one is wearing a sword, and he appears to have Latin blood. There seems to be an attraction between the two men in the picture.
STORY LETTER:
Dear Author,

We find our moments when we can, though they are few and far between. We mask attraction in enmity as we play this dangerous game. But have we played too long? The line has blurred and tempers flare. We grow impatient with the world we live in. Can we reclaim the knife-edged balance we once relied upon, or will we stumble, fall, and either destroy each other or out ourselves and lose everything?

Sincerely,

Wart
STORY INFO:
Genre: alternate history, fantasy
Tags: mage/sorcerers, aristocracy, spies, students, first time, adventure
Word Count: 10,939
Author's Note
This story is set in an alternate Victorian era London where magic adds some convenience that earth prime didn't have during that time. While I tried to keep as much as possible with the time, magic changes mindsets and, while homosexuality is still condemned, there is a small minority of about fifteen percent who hold a more enlightened view on it, mainly those who practice magic.

The magic in this story is based on elemental affinity. It takes the elemental nature from the Furies of Calderon by Jim Butcher and Elemental Assassin by Jennifer Estep. The practitioners of magic usually have only one major affinity and a couple of lesser affinities. Rarer are those with two major affinities and rarer still is three major affinities. Fire Affinity, like Rafael has, favor offensive attacks and speed in the sword work, while the Ice, Water, and Earth Affinities of Michael favor a strong and calm defense, wearing down the opponent in the sword work.

As two virgins before they met, it is relatively safe for them to not use condoms as STDs wouldn't be a problem for them. The story is also set in a time before AIDS. So, please, when having sex, protect yourselves.
Acknowledgement
I would like to thank Wart Hill for providing a great prompt that caught my eye and called to me to write this story. I also would like to thank the M/M Romance Group at Goodreads for hosting this event and supporting the creation of these stories of which I am honored to include my first story to be published. The support group for the Love's Landscape event was a forum that I could go to for encouragement and support when I needed it. I also have to thank my family and my church for all the emotional and other support provided to me by them. I also couldn't have done this without the help of an old friend, Kevin (aka Kysen1), who beta read the entire story and provided helpful suggestions, some of which I implemented. All that is good in the story is with the help of the people mentioned; the errors are only mine. The family reacting so well is in honor of my family, who accepted me as I am when I finally came out.
EVENT: Love's Landscapes
Playing with Two-Edged Swords on Goodreads
ePub | Mobi | PDF
Review Playing with Two-Edged Swords on Goodreads