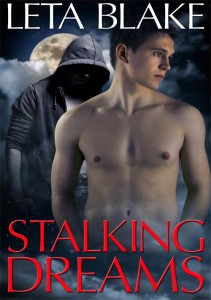 PHOTO DESCRIPTION:
Two young men sleeping while spooned together in each other's arms.
STORY LETTER:
Dear Author,
I've been scared for so long. I have a stalker who's sent me threatening messages and I've heard the person following me around campus. Last night, the stalker chased me as I was running and I thought I was going to die. Then I ran into him, my TA from my favorite class, literally. I always thought of him as kind of a jerk but when I smacked into him, he saw how scared I was and he walked me home.
The rest of the night is a blur, but I just awoke and he's wrapped around me. I feel safe in his arms, something I haven't felt in months. But why did he appear right then? Is he my stalker? I don't think so but it's still an odd coincidence. If he's not my stalker, is he in danger, too? And what the hell happened last night?
[I'd like lots of danger and fear and near-death experiences ending in an HEA for these two boys. Please no great age difference or BDSM.]
Sincerely,
Kelly Maybedog
STORY INFO:
Genre: contemporary
Tags: suspense, college, oral sex, rimming, fingering, established couples, PTSD, hurt/comfort
Content warnings: violence, possibly triggering descriptions for victims of stalking or similar violence
Word count: 9,979
Stalking Dreams on Goodreads

PDF | Mobi | ePub
Review Stalking Dreams on Goodreads