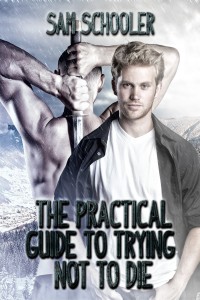 PHOTO DESCRIPTION:
A shirtless guy in jeans stands with a sword slung across his shoulders.
STORY LETTER:
Dear Author,
Overnight, my whole world has changed. I woke up with psychotic LOTR-looking freaks trying to kill me, only to be rescued by my scary next door neighbor. He claims to be my guardian and that I'm some sort of key. Key to what? And oh gosh, are those guys in my bedroom really dead? There's no way I'm getting my security deposit back now.
Fantasy, time-travel, AU all welcome. Please no BDSM. I do like snark, UST, HEA!
Sincerely,
Ithra
STORY INFO:
Genre: urban fantasy
Tags: coming of age, geeks/nerds, magic users, college, humorous, road trip, slow burn/ust, soul mates or bonded
Content warnings: Some violence
Word count: 25,366
The Practical Guide To Trying Not To Die on Goodreads

PDF | Mobi | ePub
Review The Practical Guide To Trying Not To Die on Goodreads