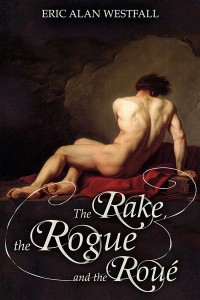 PHOTO DESCRIPTION:
He's blond, with his hair à la Brutus. He's broad-shouldered. He's beautiful. He's a Regency rake in a cutaway coat, cravat with stickpin, waistcoat and undoubtedly very tight inexpressibles (certainly golden-furred beneath all that), standing in a ballroom with golden pillars, lit by hundreds of candles in glittering gold-and-crystal candelabra and chandeliers. He doesn't yet know who's heading toward him, or his eager expression might not be so… eager.
STORY LETTER:
Dear Author,
He is spending this entire night dodging his mother, marriage-minded nitwits and the mothers of the "nitwits". Why he agreed to come to this ball he doesn't know, it's not like he's ever going to marry. Then they showed up, both of them. Together. He doesn't understand it, they hate each other. He is best friends with both but he pulled back from each relationship because he couldn't stand the bickering and snide comments when one found out he had plans with the other. He's lusted after both but never been able to choose between them. How have they managed to arrive together and why are they both staring at him?
Author,
I would love all three to become lovers. Enemies to lovers and friends to lovers please. M/M/M HEA is a must. I would love a regency setting but I don't mind if it's historical or fantasy or sci-fi. No BDSM please but everything else goes.
Thank you and good luck,
Anna
STORY INFO:
Genre: historical, alternate history
Tags: Regency, ménage, a wee tad kinky, humorous, a whole lot of loving going on, Dock sex, poetry, ned-bangers and neddy boys, a glorious happily ever after.
Content Warnings: A brief description of wartime sex between a woman and several men, which may or may not have been rape; the off-stage beating of a man and use of a banger-stick on him; remembered abuse of a minor. Certain other aspects of this story may trigger strong emotions
Word Count: 149,536
A Hearty Round of Cyber-Applause to:
Anna, Captain of the Triple-R (not to be confused with Triple-X) Team, for this incredible prompt. She inspired a novel! And for that I owe her an enormous debt of gratitude.
(Please note that the Triple-X Team is hard at work on the movie. Casting suggestions are welcomed.)
Beta Readers (Without Whom Nothing Good Would Ever Get Done):
Lilia Ford, author extraordinaire, for her usual superb beta help, and especially at the last minute for some final quick looks at the latest bits.
Alexis Woods, whose sharp eye caught so very much that needed to be caught, and who provided some of that last-minute help, too.
Kimosumiko, who has a most excellent eye for detail and whose enthusiasm for the story and the characters, encouraged me to keep on going and get this done, and who also agreed to help with some almost-eve-of-submission checking.
Jay D. Clark, who provided thoughtful analysis and suggestions, and wow! revisions to the "fog-fading beach" paragraph in the "Another England" scene that starts this all off.
AR Noble, who took on a humongous task when the book was nearly done, despite having a life of her own and her own writing, and as usual was marvelously helpful with her insights.
But please remember, if I did not adopt their suggestions, as with other authors, "The fault, dear readers, is not in our betas, but in ourselves…"
Cover Design:
The marvelously, marvelously talented Enny Kraft.
You can contact her at: http://ennykraft.weebly.com/
Many thanks to the Team Anna Cheerleaders (in alphabetical order):
Aislinn
A.J.
Bookworm
Cari
Dawn
Donna
Elizabeta
Eloreen
Gabbo
Gabrielle ~ Bhlack Benehvolence ~
Irish Smurfette
Kelly
Kenike
Leslie
Lisa ~ Books Are My Drug ~
Mandy*readsobsessively*
Neyjour
Penumbra
Teresa
Tina
Verity
Vicktor
Vivian
And though sometimes they're last to be acknowledged, perhaps, they're far, far from least:
The moderators, editors, formatters, proofreaders, and all those whose functions I don't know, without whose superb volunteer efforts none of these writing events could ever be.
A particularly special thanks to Raevyn for the vast undertaking of editing so very many words, and all those commas! And to Sue for having the courage to format it all.
Mercy buckets! mesdames and monsooers.
EVENT: Love's Landscapes
The Rake, the Rogue and the Roué on Goodreads
ePub | Mobi | PDF
Review The Rake, the Rogue and the Roué on Goodreads