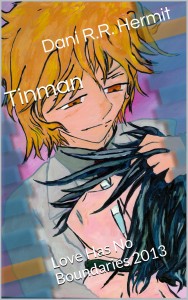 PHOTO DESCRIPTION:
A young man, chained to an old bed frame, is crying out. He is collared and secured in what appears to be a basement.
STORY LETTER: 
Dear Author,
His name is Master, I have no name, just names he calls me like boy, fuck toy, dog, pet― depending on his mood. Sometimes he calls me with a snap of his fingers. I don't get to talk, unless I am asked a question by him, which is rarely since nothing I say really matters to him.
He bought me a month ago from my "mother". She put an ad in the local paper seeking a strong, dominant man to raise her son and teach me how to behave and act properly, since I have no father. Apparently I got into too much trouble for her liking and she needed money for bills. So she sold me to the highest bidder without even asking him his intentions. 
I get caged, cut, smacked, sense-deprived, chained, caned and many more horrors.
This is my life now, and it ends any trace of the person I used to be, as if I am a rag doll― no brain, heart, senses, or feelings.
I like dark stories, mind numbing and that disturb the reader.
Please include BDSM, punishment, humiliation, anything twisted. Non-con
I want to know what his first few months were like and show how he changed within the first year of captivity. And anything else you want to add.
The captive needs to be very pale, black longish hair, blue eyes; Master― tanned, cut body.
Sincerely,
Erica
STORY INFO:
Genre: contemporary
Tags: BDSM, dubious-consent, non-consent, abuse, dark, slave, underage
Content warnings: dub-con sex, extreme humiliation and abuse, mentions of long term child sexual abuse and rape, somewhat dubious HFN ending
Word count: 12,993
Tinman on Goodreads

PDF | Mobi | ePub
Review Tinman on Goodreads