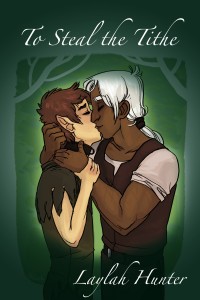 PHOTO DESCRIPTION: 
A sepia-toned, head-and-shoulders painting of a handsome young elf, looking intently and maybe challengingly at the viewer. His hair is short and tousled, he's shirtless, and he's wearing a thick leather collar with one heavy ring at the front.
STORY LETTER: 
Dear Author,
Elves are rare gifts. In distant lands, in a fantasy world where humans and demons are in constant war, this elf is a rare magic creature that, not against his will, prefers to be with a human. Even if it's against the elves' rules to take a side in this war.
Of course it's a forbidden love, of course it must seem like he is not in love, but a possession.
Who is the human the elf is in love with? So in love he decides to risk his own life, going against his own race's rules?
Just few requests: no hardcore BDSM (no pain, no cut), can be even a story without sex scenes at all and must be a fantasy, nothing more :), freedom to do whatever the writer's muse tells him/her to do.
Author can do anything with this elf. 🙂 HEA, HFN, it's up to the writer.
Thank you 🙂
Sincerely,
Bookwatcher
STORY INFO:
Genre: fantasy
Tags: elves, magic users, demons, magical bonding, adventure, light bondage, teasing
Word count: 10,775
Acknowledgments
For Mary, who sprang into action when I begged for more fantasy prompts, and with thanks to Jake, who gets me out of every sorcerous jam I land myself in. Cover illustration graciously provided by Rachel Roach, who can be reached at http://rachelroach.carbonmade.com/
To Steal the Tithe on Goodreads

PDF | Mobi | ePub
Review To Steal the Tithe on Goodreads