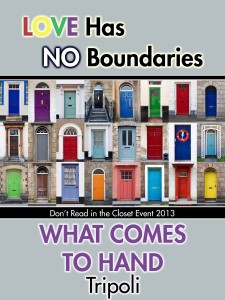 PHOTO DESCRIPTION:
Two well-built, naked, dark-haired men are in a high-ceilinged room with a wooden floor and white-painted decorative moldings on the walls. The photo catches them in a kiss. The man against the wall is blindfolded with a long length of black lace, and he entwines his legs around the other as he is lifted off the floor, hands grasped firmly, and pressed to the wall in passion.
STORY LETTER:
Dear Author,
I think these two men have decided to spice up their love life a bit by trying something new. They are in a fancy hotel and have used whatever came to hand. Where did that lacy scarf come from?
Take care,
Annette
STORY INFO:
Genre: contemporary
Tags: BDSM, established couples, troubled relationship, hurt/comfort, dub-con, medical play
Content warnings: This established couple relationship does not fit the definition of safe, sane and consensual practices of bdsm. Extreme insect play!
Word count: 9,715
Acknowledgements
Special thanks to Anyta and Lenore, our awesome beta readers. Any mistakes remaining clearly come from edits made after their suggestions. Also, thanks to Annette, without whom we wouldn't have discovered this story.
What Comes To Hand on Goodreads (NSFW)

PDF | Mobi | ePub
Review What Comes To Hand on Goodreads