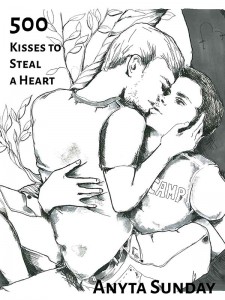 PHOTO DESCRIPTION:
Two men are sitting close, a whisper apart, and their gazes are locked onto each other's lips. The light glows behind them, bright, like the chemistry between them. They are about to kiss…

See the photo here
STORY LETTER:
Dear Author,

These two men appear to be sharing a moment of affection and tenderness, and they seem so comfortable with each other's personal space. How did they meet or find one another? What has their time together been like? Is this the lead-up to their first kiss or is it the lead-up to their five-hundredth kiss? Is their body language a reflection of their long-time intimacy and knowledge of one another, or is this an early moment in their relationship? Any genre (paranormal, contemporary, sci-fi, etc.) is fine if it helps the story flow for you, and a range of heat or spice is great, as well.
P.S. If possible, I'd prefer something without extreme amounts of angst. Also, no non-con/dub-con/infidelity/cheating, please. Slow burn and romance would be great to read, and please give them an HEA. Thank you so much!

Sincerely,

Marie

STORY INFO:
Genre: contemporary
Tags: enemies to lovers, reunited, slow burn, camp, warring neighbors
Word Count: 20,268

Acknowledgements
Thank you to Teresa for content editing, Lynda for line editing, and Karen and the Love's Landscapes team for proofreading. Another thanks to Sunne and Vicki for beta reading. I am grateful for you not only catching inconsistencies but also giving me tips to make this a stronger story. And a special cheers to Maria Korte for the wonderful cover art. Big hugs to you all. You're awesome.
EVENT: Love's Landscapes
500 Kisses to Steal a Heart on Goodreads
ePub | Mobi | PDF
Review 500 Kisses to Steal a Heart on Goodreads