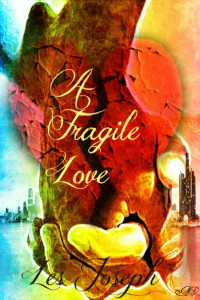 PHOTO DESCRIPTION:
Two men are entwined on a seat while riding a subway. One of the men, in a black long-sleeved shirt, is leaning over the other, who is laying across his lap and wearing a white T-shirt. Their lips are just a breath away from touching.
STORY LETTER:
Dear Author,
I'm so glad we're finally at this point in our relationship where we are comfortable with each other like this in public; I was an idiot for so long, trying to hide what we had. But after what happened, I'll never take him for granted again. I'm through hiding. I'm going to make sure that he knows every day just how much I love him.
Note: I'd love this to have both sweet and steamy moments, but no BDSM please. The rest is up to you!
Sincerely,
Sas
STORY INFO:
Genre: contemporary
Tags: drama, sports, coming out, out for you, hurt/comfort, celebrity, tattoos
Word count: 19,822
A Fragile Love on Goodreads

PDF | Mobi | ePub
Review A Fragile Love on Goodreads