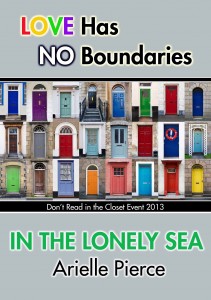 PHOTO DESCRIPTION:
A drowned man is held in the arms of a merman. The man looks as though he could be dead, or he could be asleep. The merman is kissing him on the lips. The man's hands drift in the sea, and his clothes are in tatters.
STORY LETTER: 
Dear Author,
Holding on to this wreck is all I can do. The light of the sun is as unbearable as the chill of the night. No land in sight. I'm hungry, thirsty, and I'm tired.
The sweet song I heard all night is luring me under. I must be losing my mind, because I believe it. And I let go.
No BDSM possibly and I like my protagonists BOTH with strong personalities. Thank you!
Sincerely,
Emmanuela Plastic Duck
STORY INFO:
Genre: historical fantasy
Tags: Welsh, merman, Victorian/1880's, first love, sailor
Content warnings: HFN?
Word count: 5,930
In The Lonely Sea on Goodreads

PDF | Mobi | ePub
Review In The Lonely Sea on Goodreads