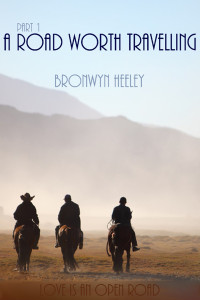 PHOTO DESCRIPTION:
Three dirty men smiling like loons while riding their horses through a river in the rain.
STORY LETTER:
Dear Author,
Our group of 3-6 (your choice) college-age friends spend Spring Break roughing it on a trail ride on horseback. Each of us gets what he can carry in his saddle bags (30 lbs/14 kg) and half the load of a pack horse (100 lbs/45 kg each) in food, clothes, and camping gear. Our trail guide and some of the other guest riders are experienced trail riders (gay or straight, male or female). One or two of us are cowboys, but the rest of us are city boys with no experience in the wild or with horses. We are smart, athletic friends, and at least two of us will find first gay love or rekindle m/m romance on a trail fraught with danger, disaster, and memories to last a lifetime.
I hope to read hot, erotic romance, high adventure, and narrow escapes in the seven days of the trail ride. I'm fine with graphic eroticism, ménage (m/m/m), mystery, violence, paranormal, and even shifters in a largely contemporary setting, but would prefer no BDSM. I hope for passionate men, compelling action, and steamy interaction in route to a satisfying climax.
Sincerely,
Jay
STORY INFO:
Genre: contemporary
Tags: ménage, adventure, stockmen, masturbation, road trip, public activity, open relationship, grief, phobia
Content Warning: graphic violence
Word Count: 13,450
EVENT: Love is an Open Road
A Road Worth Travelling on Goodreads
ePub | Mobi | PDF
Review A Road Worth Travelling on Goodreads