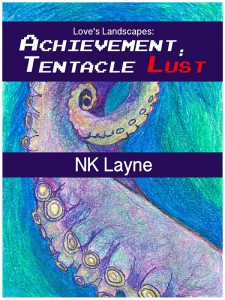 PHOTO DESCRIPTION:
A gorgeous man stands in front of a sea cave entrance while raising his bulked arms behind his head with hands clasped. He stands in the ocean's wave with squid limbs that are presumably his own. The ocean surrounding him is outlined by crimson.
STORY LETTER:
Dear Author,
There is one smoking hot tentacle hottie somewhere in the ocean and he wants himself a mate! And he isn't asking too many questions about the willingness of said mate. He knows when the guy is right for him and that is all that matters.
I'm in for some hot tentacle porn and I'm okay with dub-con. If you get a whole story out of it, that's cool but good piece of PWP is alright with me too.
Just remember that there can never be too many tentacles!
Sincerely,
Eepa (Eija)
STORY INFO:
Genre: paranormal
Tags: tentacles, mythical creatures, interspecies, m/m/m, kink, spanking, bondage, orgasm denial, PWP
Content Warnings: dubious consent, graphic violence, a giant pile of smut
Word Count: 3,824
Acknowledgements
My writing group: Write Bitch Write
Thanks!
EVENT: Love's Landscapes
Achievement: Tentacle Lust on Goodreads
ePub | Mobi | PDF
Review Achievement: Tentacle Lust on Goodreads