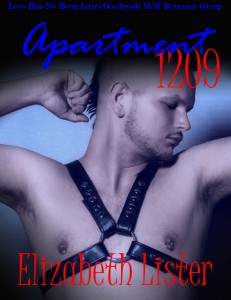 PHOTO DESCRIPTION:
A muscular masked man, naked except for multiple leather harnesses and leather jock, sits clutching his crotch and placing his middle finger seductively on his tongue as he stares challengingly at the camera.
STORY LETTER:
Dear Author,
I am working three jobs to make ends meet, going to college at night and have not had any time for fun. I live one lonely boring life.
My neighbor across the hall has been watching me for some time without my knowledge. He thinks I'm overworked and need some time to relax… with him.
Somehow his version of de-stressing is this:
[PROMPT PHOTO]
And calling him Daddy.
Please write my story about how I ended up being his boy.
Thanks! ;P
PS A HEA most definitely!
Sincerely,
SheReadsALot

STORY INFO:
Genre: contemporary
Tags: college, BDSM, fetish toys, first time, age gap, soul mates or bonded
Word count: 12,134
Apartment 1209 on Goodreads (NSFW)

PDF | Mobi | ePub
Review Apartment 1209 on Goodreads