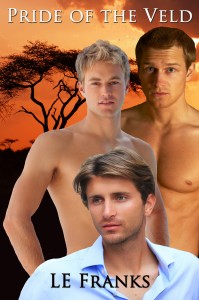 PHOTO DESCRIPTION:
This black-and-white photo shows the backs of two men sitting in a Jeep. They're leaning close together with their arms entwined, hands held together to form a heart.
STORY LETTER: 
Dear Author,
It was only supposed to be a some sexy moment while on the safari, a summer fling, nothing serious between me, the local guide and the only other participant on the safari; a hot nerdy wild-life photographer. The plan was for us to return to our life after that, but through fun and hard moments, it became much more. Now, I don't think I can live without both those men. But how could we, with all of us living in three different corners of the world?
I'm looking for something sexy that's going to send me into a safari. HEA (or a strong HFN) or at least the allusion of one. Some action/adventure would be great but not mandatory.
Sincerely,
MC Houle
STORY INFO:
Genre: contemporary
Tags: ménage, South African safari, photographer, kidnapping, multicultural
Content warnings: violence
Word count: 29,501
Pride of the Veld on Goodreads

PDF | Mobi | ePub
Review Pride of the Veld on Goodreads