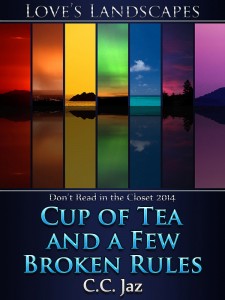 PHOTO DESCRIPTION:
Two men lie side by side, embracing one another. One of them has black ropes still tied around his wrists and ankles while the other holds him protectively.
STORY LETTER:
Dear Author,
Please help telling our story! How did we meet, what happened that brought us to this place:
What is it that always brings out my dominant side? Just looking at you and I'm there. All this beautiful skin, coupled with my dark restrains― it gets me going and wanting to have you at my every wish. And you are with me, every time. So beautiful! And afterwards― so good to be with you, next to you, feeling every breath you take, breathing in your smell, the one that's totally you, giving me peace. But what's even more wonderful is getting to be held by you, your arms around me. So good to have you near me.
Yes, we are in tune, belonging together.
Really?
Sincerely,
Anke
P.S. May I ask for contemporary, please?
STORY INFO:
Genre: contemporary
Tags: hurt/comfort, enemies to lovers, men with pets, mentioning of power-exchange
Word Count: 42,944
EVENT: Love's Landscapes
Cup of Tea and a Few Broken Rules on Goodreads (NSFW)
ePub | Mobi | PDF
Review Cup of Tea and a Few Broken Rules on Goodreads