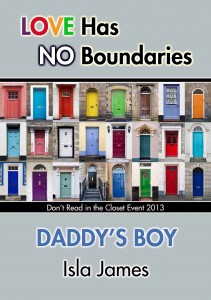 PHOTO DESCRIPTION:
One very naked, heavily muscled, man with his back to the camera. The words "Daddy's
Boy" are tattooed across his back from shoulder to shoulder. His legs are spread and he is
obviously standing over another man who appears naked from the waist down. The man
below him has a large ruddy cock that is nestled between Daddy's Boy's ass cheeks.
STORY LETTER:
Dear Author,
I've been searching for so long. People think I'm dominant or that I want to top. What I really want and need is strong man who won't abuse me, someone who will let me trust. I would do anything for a man like that. I'm so tired. All I want is to be Daddy's Boy. 
Feel free to take this anywhere you want to go. Just please make it HEA. Thanks. 
Sincerely,
Sassy

STORY INFO:
Genre: contemporary
Tags: daddy/boy, tattoos, gay marriage, former military, security men, sex club owner, BDSM
Word count: 6,899
Daddy's Boy on Goodreads (NSFW)

PDF | Mobi | ePub
Review Daddy's Boy on Goodreads