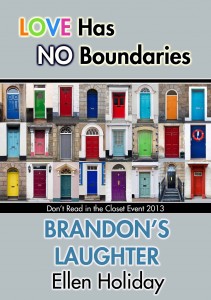 PHOTO DESCRIPTION:
Black-and-white photo of two men laughing together; one is leaning on the other's shoulder.
STORY LETTER:
Dear Author,
We have known each other nearly all our lives. We grew up in the same mid-sized conservative town in the south, but it took music and distance to bring us from acquaintances to this moment. How did we get here from there?
Sincerely,
Brandilyn
STORY INFO:
Genre: historical
Tags: musicians, military, sweet no sex, coming of age, reunited, young adult characters, angst
Word count: 16,427
AUTHOR'S NOTE:
Some minor liberties have been taken with historical timelines in this piece. Hopefully they have not distracted from your enjoyment of the story.
Brandon's Laughter on Goodreads

PDF | Mobi | ePub
Review Brandon's Laughter on Goodreads