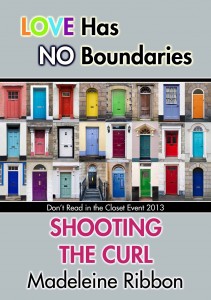 PHOTO DESCRIPTION: 
A fit young man with blond curly hair lifts a little boy up into the air with one arm. They're dressed for the beach and wearing matching sunglasses.
STORY LETTER: 
Dear Author,
I'm not sure what to do. For three years, Little Dude has been my whole life. I made the choice to adopt as a single father, and I'm darn good at being a dad. Except, well, there's this person I can't get out of my mind, which is weird because I haven't given a thought to sex and relationships since Little Dude and I became Team One. The other weird thing? He's a guy. Yeah. And seems the total opposite of me. Plus, I think he's straight, but I swear sometimes he looks at me and is thinking about how good we'd be together. It makes me a little nervous. And a little hot.
Whatever I do, I have to put Little Dude first. Hey, I don't even know if this guy likes kids!
Requests: Caleb calls his kid Little Dude. 
Caleb's job involves surfing. (LAPD undercover beach beat/pro surfer/surf teacher/board maker…?)
Gay-for-you for both parties
Bonus if other guy is a little chubby (10-20 lbs. overweight)
Please no super buff muscle-bound overconfident men. 
Other guy is not the nanny. 
No evil ex-wives/girlfriends.
Sincerely,
Caleb
STORY INFO:
Genre: contemporary
Tags: gay for you, men with children, surfer, IT
Word count: 13,237
Shooting the Curl on Goodreads

PDF | Mobi | ePub
Review Shooting the Curl on Goodreads