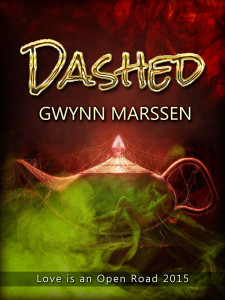 PHOTO DESCRIPTION:
A photograph from the chest up of a stunning dark-haired man. He has his hands behind his head and he's looking into the camera with a look that is both devious and challenging. The smirk around his lips doesn't promise much good― or a lot of it― depending on your perspective.
STORY LETTER:
Dear Author,
I admit I don't drink a lot, so last night might not have been the best idea. Everyone knows that summoning demons and alcohol is a very bad not good combo, and that Dark Entities Are Not Personal Playthings or Party Favours.
So, long story short, I'm now stuck with that absurdly hot guy you can see in the picture. He owns my soul and the bastard won't even tell me what I sold it for…
I just hope that he's not as bad as that smirk would suggest and that my story will have a happy ending.
Thank you and good luck, both to you and to me, Dear Author!
Sincerely,
T
STORY INFO:
Genre: paranormal
Tags: enemies to lovers, magic users, psychic ability, bickering men, humor, first time, highly aggressive reindeer
Content Warnings: minor character death, limited graphic violence
Word Count: 53,489
Dedication
Karen, even though life kept you busy this year, this one is still for you!
Acknowledgements
First and foremost, I'd like to thank Tiferet for the awesome prompt and mostly the prompt picture that finally had me decide I needed to do a story this year, even though I wasn't sure I had the time or the energy to do so.
Luckily― or not, considering it took pneumonia, which made me miss about a month of work but didn't keep me from sitting on my couch and writing― I found some time. I hope you have as much fun reading this as I had writing it!
I also have to thank Tiferet for turning the picture I found into an amazing cover, thus saving me hours of frustration trying to understand software I don't have the patience for.
Then there's Donna, who brainstormed endlessly with me in the beginning of the story, making me see that an outline isn't such a horrible thing to have― especially when you're trying to write characters who don't want to keep their mouth shut and do as they are told― and who didn't get mad when I decided I needed to write this story on my own after all.
I much appreciate the help from the betas who helped me out on a moment's notice, and of course the awesome event staff who never seemed to tire of answering my stupid questions.
EVENT: Love is an Open Road
Dashed on Goodreads
ePub | Mobi | PDF
Review Dashed on Goodreads