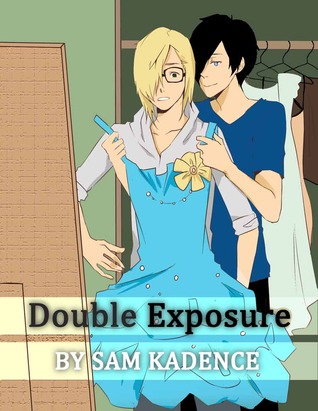 PHOTO DESCRIPTION:
A beautiful young man looks outward through a tumble of messy, long, blond hair.
STORY LETTER:
Dear Author,
I'm a guy who doesn't care what he looks like. I wear glasses and prefer baggy sweatshirts and jeans. My hair, super long for a guy, is always tied up and stuffed inside a beanie or the hood of my sweatshirt. No one really pays much attention to me in school, and frankly, I don't mind. I'm not a loner or anything, although my friends and I aren't exactly the popular ones in school.
I don't really care about popularity or being in a relationship or being invited to parties and stuff like that. I'm happy getting good grades, hanging with my friends, and being with my family, even if they drive me crazy most of the time. I'm pretty close with my dad's sister, my Aunt Patricia, who's a fashion photographer. She pays me to be her errand boy on Saturdays, which is pretty cool.
This Saturday however, is a little different. My aunt shows up at the studio with a couple in business suits, followed by the model for the day's shoot. I only get a glimpse of his face, but I know it's Lucas. 
Let me explain about Lucas: he's the most popular guy in my school. No, he's not a jock or anything, he's a model, since he was in fifth grade or somewhere around there. He's the guy everyone wants to be friends with, and the guy most of the girls in school want as a boyfriend. I'm not one of those people.
Anyway, everybody's in a rush now that the model has arrived, and I've got about a hundred things to do helping get ready for the shoot. Then it turns out the female model is a no-show. The next thing I know, my aunt tows me into a dressing room and tells me she wants me to be the female model.
Honestly? I think she's crazy. For one thing, I'm clueless about clothes. For another, I'm pretty sure I don't look like a model. And I'm definitely not a girl.
Before I can tell her no, my aunt drags me into another room so the make-up artist and hair stylist can attack my face and my hair— and then my aunt is helping me get into a dress. A dress! I look ridiculous! And on top of all that, I have no idea how to model. I was never going to hear the end of this.
But when my aunt leads me over to Lucas, I'm almost positive he not only doesn't recognize me from school—no surprise there—he thinks I'm really a girl! And there's no time to say anything because I'm being put into position and the camera is clicking away. I am so awkward with him— the poses are a little too romantic for comfort. After a few poses I start feeling weird— my heart pumping harder than usual, my stomach in a knot— I'm pretty sure I might be getting sick.
Finally, my aunt announces that we're almost done. Finally! I suddenly feel Lucas' hand on my lower back, and turn toward him. He cups my face with his hand, looking at me with eyes that are so intense I have to swallow my spit. The weird feelings are back, even worse now. Lucas tilts his head and leans in slightly, closing his eyes. The last things I remember are a click from Aunt Patricia's camera and gasps from her direction…
Sincerely,
Leandro
Due to posting limitations, this letter has been edited. The original full-length letter may be found here.
STORY INFO:
Genre: contemporary, young adult
Tags: cross-dressing, coming of age, visual arts, high school, sweet no sex
Word count: 12,709
Double Exposure on Goodreads

PDF | Mobi | ePub
Review Double Exposure on Goodreads