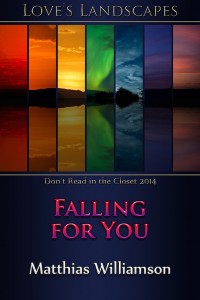 PHOTO DESCRIPTION:
One man is leaning over a balcony, having his knuckles of his hand kissed by another man who is rising up to meet the challenge.
STORY LETTER:
Dear Author,

Due to a very embarrassing accident I am stuck at home. Broken leg. My profession requires a lot of exercise, so not being able to move around freely drives me crazy. One morning while sipping my coffee and browsing the internet on my tablet, I spotted the most gorgeous guy just outside my balcony. He was so engrossed in talking to the dog he'd been walking that day, that he hadn't noticed me watching. In hope of seeing him again and maybe for a chance to get to talking I had every breakfast, lunch, afternoon snack and dinner on my balcony. Every day. I knew it was crazy but I just had to see him again. I did. For days I had been watching him and his dog play at the park across the street. One day, when he actually noticed me, it was everything I could have hoped for and more.
The only problem: his dog is his entire world. Unfortunately I've been suffering from Cynophobia (terrible dog phobia) ever since I can remember. How can we find our HEA? He would never choose me over his dog…

Sincerely,

Riina
STORY INFO:
Genre: contemporary
Tags: sports, veterinarian, sweet/no sex, men with pets, humorous
Word Count: 10,987
Acknowledgements
I'd like to thank Jessa Ryan who lifted me up from a low place and really encouraged me to finish this story. Thank you also to Debbie McGowan, for coming in at the end and rooting me on to the finish. I can honestly say I couldn't have done this without their help.
EVENT: Love's Landscapes
Falling for You on Goodreads
ePub | Mobi | PDF
Review Falling for You on Goodreads