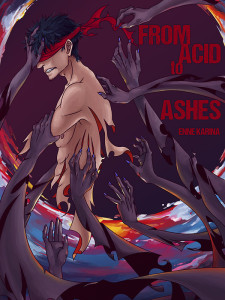 PHOTO DESCRIPTION:
A dark-haired man lay naked in bed with his sheets tangled around him. His face is contorted into an expression of agony. He is screaming in his sleep. All around, phantom arms reach out from the bedding to grab and claw at his body.
STORY LETTER:
Dear Author,
It's weeks since I last slept. The same nightmare each time I try. They come for me, their ice cold fingers pressing into my skin, holding me down. I sense something coming, and wake screaming.
Am I possessed, haunted, going mad? I know one thing, I can't go on. I need help, but where do I turn?
HFN will be fine. No vampires though please.
Sincerely,
K
STORY INFO:
Genre: urban fantasy
Tags: magic, macabre/dark, angst, law enforcement, nightmares
Content Warnings: gory and bloody, mentions of childhood abuse, violence
Word Count: 75,354
EVENT: Love is an Open Road
From Acid to Ashes on Goodreads
ePub | Mobi | PDF
Review From Acid to Ashes on Goodreads