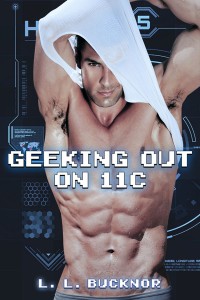 PHOTO DESCRIPTION:
A guy with golden skin, washboard abs and a scruffy, sexy grin is staring off into space. He looks like he's thinking about something hot as he lifts up his sleeveless shirt.
STORY LETTER:
Dear Author,
Mateo is the most gorgeous man I've ever seen. He lives in my building, but I didn't think he would ever notice me. I'm shy, I'm a geek and I'm probably too old for him. The other day he passed me in the hall and winked at me. Of course I completely clammed up, blushed and rushed by him. I can't even say hi to the man without being completely flustered. But I can't get him out of my mind.

Requests: Contemporary, age difference, opposites attract, some humor and smexin' would be nice, HFN or HEA.

Sincerely,
Valerie C
STORY INFO:
Genre: contemporary
Tags: age gap, opposites attract, smaller top, geeks, men with pets, blue collar
Word Count: 14,504
Acknowledgements
Thank you to everyone that I pestered about Edgar. Many thanks to the MMR Team!
EVENT: Love's Landscapes
Geeking Out on 11C on Goodreads
ePub | Mobi | PDF
Review Geeking Out on 11C on Goodreads