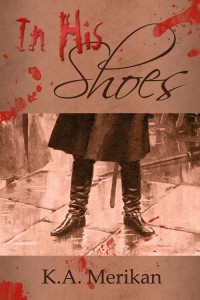 PHOTO DESCRIPTION:
A handsome man in a tattered coat looks up from below a crooked top hat that shadows his other eye. His clothes appear too thin for the weather, but even worn and dusty, they seem to have been carefully chosen. There is a hint of a smile on his lips, but his intense gaze holds a promise of violence. Is it directed at the thoughtful man in the second picture, or are they joining forces?
STORY LETTER:
Dear Author,
Do whatever you like with this one, just make my wicked fantasy of a couple of rough Victorian hotties frantically smexing each other (preferably in a filthy back alley) come true 🙂
Although I would like it to be set in (and have the seedy feel of) Victorian England, I am not hugely concerned with historical accuracy, so please don't be put off by lack of knowledge of the era.
No paranormal, steam punk, sci fi, or time travel please. Just a simple historical romp would be most excellent and appreciated.
Sincerely,
Danni

STORY INFO:
Genre: historical (Victorian London)
Tags: thug, pimp, first time, sex in a seedy back alley, friends to lovers, protecting your sweetheart, greed, dark
Content warnings: graphic violence
Word count: 9,480
Dedication
To Danni, whose brilliant prompt convinced us to participate in the Love Has No Boundaries Event.
In His Shoes on Goodreads

PDF | Mobi | ePub
Review In His Shoes on Goodreads