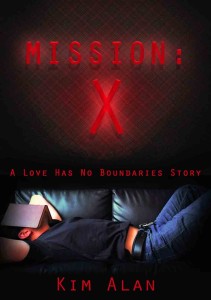 PHOTO DESCRIPTION:
The first photo is a profile view of a young, clean-cut, dark-haired man sitting framed in a sunlit bay window, wearing only a T-shirt and boxer shorts while he reads.
The second photo is faceless. Male hands— strong, with chipped black nail polish and leather-cuffed wrists— cupping himself over a black, studded, leather belt, and the fabric of his low-slung, red plaid kilt.
STORY LETTER:
Dear Author,
This is X. As you can see from the image, he's a pretty bookish and calm fellow. He likes nothing better than cuddles and early morning sex and then some more cuddles.
It wasn't his choice to be dressed in dark jeans and a super tight tank top to go to a fetish club of all things. He doesn't even own leather! BDSM is the new thing, his best girlfriend said. Haven't you read that book? She asked.
Now, because he owed her one, he went. And then this guy walked into his view. The Dom doesn't seem to care about the newbies snickering at his "skirt" or his black nail polish and everyone else seems to respect him a lot.
X wasn't there to attract attention, but a little mishap and suddenly he's on his knees next to the guy and… he feels right at home? What the hell?
Where does the story go from there? And please, don't make it about pain as much as about submission and servitude. That's all I ask. Everything else is up to you, dear author.
Thanks in advance!
Sincerely,
Tia

STORY INFO:
Genre: contemporary
Tags: BDSM, geeks/nerds, age gap, snarky humor, giant bears, brazen twinks
Word count: 19,157
Author's Note 
There is hot sex in this story, but the issue of protection is left somewhat ambiguous. In real life, be safe without question.
Mission: X on Goodreads

PDF | Mobi | ePub
Review Mission: X on Goodreads