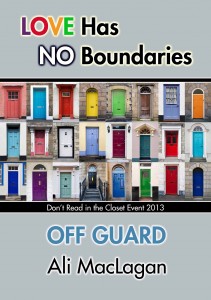 PHOTO DESCRIPTION:
This prompt included two pictures. The first was a chiseled man with dark blond hair and blue eyes. His mouth is curved up in the smallest of smirks.
The second picture features a young man with dark hair. The only thing he is wearing is a pair of black briefs and he's bending over a sink displaying his ass to the camera.
STORY LETTER:
Dear Author,
I am a bodyguard, an ex-marine. I have not had the time or inclination for relationships, preferring the occasional casual meeting with other men like me. Until now… until him… my new assignment.
He is utterly shameless. He drives me crazy. How did this happen to me? I'm falling for a twink.
Sincerely,
Susan A
STORY INFO:
Genre: contemporary
Tags: bodyguard, twink, car bombing, kidnapping/abduction, shower masturbation, homophobia, revenge, mild PTSD
Content warning: mid-level violence
Word count: 24,040 words
Off Guard on Goodreads

PDF | Mobi | ePub
Review Off Guard on Goodreads