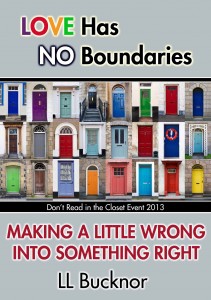 PHOTO DESCRIPTION:
Two shirtless men are writhing on top of one another on a hardwood floor. Personal effects seem scattered around in the men's anxiousness to be with one another. The guy on the bottom has a massive tattoo spanning his rib cage and the guy on top seems to be in raptures.
STORY LETTER:
Dear Author,
WTF! One minute I'm making dinner (for one), the next there's some incessant banging on my door and the next, I'm on the floor with him on top of me, kissing, rubbing, grinding… something happened… something must have happened. I've never seen him look like that. I've never seen him look at ME like that! And never in a million years did I think he'd be kissing ME! What is going on!
Hopefully I did this right… so preferably no BDSM & no paranormal… overall, the MC's should be on— or get to— a place of equal footing. GFY, angst okay, but not necessary… really wherever the story goes (or whatever led to here), wherever you want to take it… I'm good with.
Sincerely,
Alison

STORY INFO:
Genre: contemporary
Tags: blue collar, butt virgin, interracial, men with pets, tattoos, piercings, apadravya
Content warnings: cheating
Word count: 13,297
Making A Little Wrong Into Something Right on Goodreads

PDF | Mobi | ePub
Review Making A Little Wrong Into Something Right on Goodreads