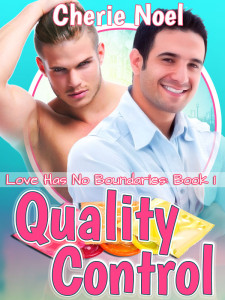 PHOTO DESCRIPTION:
Two men stand close together at a park, laughing toward the camera. The man in front holds a baby in a soft, blue denim dress. The man holding the baby has dark brown hair and the one standing behind him has sandy brown hair.
STORY LETTER:
Dear Author,
See the man on the left, holding that baby? Yes, that's me. I worked in a condom company as a quality product supervisor. You would think that it would get me lots of dates, right? WRONG. It seems that once people know where I work, all they want is free condom samples. Damn it. 
But then I met this guy (you decide HOW) and he has this most amazing baby— I could fall for him, I swear. But then he told me HOW he ended up with the baby. Broken condom. And it's the condom products from the company where I work. In which I am responsible to supervise the quality.
*head desk*
How can I possible have my HEA with him?
PS: I don't want the other guy to be straight— he can be gay or bisexual or experimenting during the night in which the baby is created. And please, don't let the female character (a.k.a. baby mama) be a bitch or irresponsible or anything bad. In fact, I would love it if the baby mama is still around and the two of them make an agreement to raise the baby together (they are NOT married or live together). I want the female character to be portrayed well, in positive way. No bitching the female character, please
Sincerely,
Ami

STORY INFO:
Genre: contemporary
Tags: men with children, nursing profession, unplanned pregnancy, HFN
Word count: 24,309
Dedication 
Because love truly has no boundaries, and because Ami asked, I got to meet the lovely boys of Quality Control. Thanks also go to all those at the Goodreads M/M Romance group who work so tirelessly to make the group run and be able to sponsor fabulous events like this. Oodles of gratitude go to the real life Sasha, who inspired my main character's fictional best friend. And as always, special thanks go to my dear Balthazar for giving me the push I needed right when I needed it. Because of him I will always yearn and strive to become the best writer I can.
Quality Control on Goodreads

PDF | Mobi | ePub
Review Quality Control on Goodreads