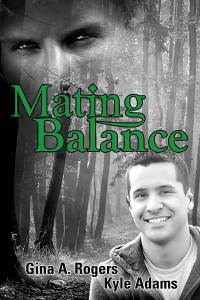 PHOTO DESCRIPTION:
A man standing alone and naked in the woods next to a tree looking into the distance. He has messy, finger-length, brown hair. His sleek, well-defined muscular body looks quick and flexible. Tan skin, pouty lips, high cheekbones, and a straight nose. Broad bulky shoulders and a defined V leading down to close cropped crotch and thick thighs.
STORY LETTER:
Dear Author,

I am a shifter looking for my mate and need to satisfy the overwhelming animal urge that dwells within me.
After many years prowling the globe looking for him, I believe my search is over.
I can smell him near me, I can feel him near me but, I want to feel him inside me!

Sincerely,

S.M.
P.S. Please, No BDSM. I'd prefer his mate NOT to be a twink or of that variety. I'm thinking same size guy or bigger.
You choose the animal.
Extra points to you if you go the full hog and leave nothing out.
STORY INFO:
Genre: paranormal
Tags: shifter, men with pets, steamy, playful, funny, dark, mates, armpit, sex outside, explicit
Content Warnings: It's dark until the sun comes up.
Word Count: A satisfying 26,420 words!
Acknowledgements
Special thanks to S.M. Franklin for posting such an inspiring prompt and photo. We hope you like this story.

Also we'd like to thank the awesome volunteers from MM Group for coordinating and hosting this wonderful event.

Cover by the talented and amazing Enny Kraft
EVENT: Love's Landscapes
Mating Balance on Goodreads (NSFW)
ePub | Mobi | PDF
Review Mating Balance on Goodreads