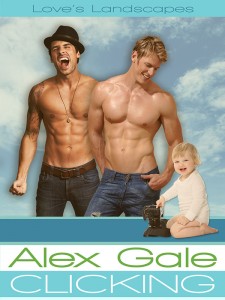 PHOTO DESCRIPTION:
A heavily-tattooed man, wearing aviators and a white cotton V-neck T-shirt, is carrying a beautiful, blonde baby girl. She's about a year old and wearing a little pink dress. The man is holding her tightly and kissing her sweetly on the cheek as she smiles.
STORY LETTER: 
Dear Author,

I've started to fall in love slowly with this man in the picture. I am a freelance photographer and got invited to take pictures of a band while they are on tour. This doesn't only include pictures of them performing, but also of them backstage and sometimes even on their days off. This man is one of the band members and through all the pictures I've taken of him I feel so close to him, but we haven't even had a real conversation. A couple days ago I took this picture when his daughter visited (I didn't even know he had a daughter, though now it makes sense he kept mentioning a girl to the other band members). Seeing him with her I knew there was no back for me: I'm completely in love with this man. I just hope I have to guts to approach him (like I have a chance with a man like that… I don't even know if he's gay. He has a daughter, for Christ's sake!), because the tour is almost over and the possibility of us meeting again is very slim. 

Sincerely,

Rochella
STORY INFO:
Genre: contemporary
Tags: musicians/rock stars, photographer, men with children, kidnapping, homophobia, sweet-but-dirty
Word Count: 15,423
Acknowledgements
Thank you to the MM Romance group for this wonderful opportunity to make a lifelong dream come true. Thanks to all who work so hard in making such a huge undertaking so successful, particularly my very thorough and dedicated shepherdess, Elizabetta. Thank you to Rochella for her prompt. From the moment I saw it, I knew it was meant for me, and I hope she's happy with the results!

I would like to thank beta reader extraordinaire Rick Bettencourt, for his dedication and attention to detail, as well as Isabel, Ipek, Danny L. and Danny B. for their feedback. Thank you to my Eddy Bear, the best toddler in the world, for inspiring Lexi. Thank you to Claudia for being such a tireless cheerleader.

Finally, thank you to all my loved ones for encouraging and believing in me. I hope to do you proud!
EVENT: Love's Landscapes
Clicking on Goodreads
ePub | Mobi | PDF
Review Clicking on Goodreads