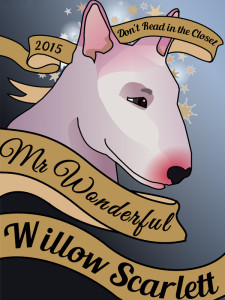 PHOTO DESCRIPTION:
A tattooed and pierced young man with a shaven head is asleep in a floral bed, cuddling a white bull terrier.
STORY LETTER:
Dear Author,
Please help me, I am not sure what happened last night. My friends and I went out to celebrate, and I must have overdone it because my memories are a little fuzzy. I know I met a guy, and evidence indicates we had a really good time.
Why am I in bed with this friendly dog, and why did my friend just text me asking how Mr. Wonderful is this morning?
I want this to be the start of something wonderful, after all that I have gone through and all I have achieved; I would really like a man to share it all with.
Thank you, Author, for giving me a story.
Sincerely,
Peggy
STORY INFO:
Genre: contemporary, new adult
Tags: flamboyant characters, interracial, men with pets, military men, tattoos, visual arts
Word Count: 32,275
EVENT: Love is an Open Road
Mr Wonderful on Goodreads
ePub | Mobi | PDF
Review Mr Wonderful on Goodreads