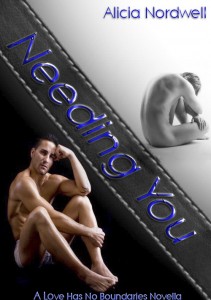 PHOTO DESCRIPTION:
The slim sub's thumb was dipped inside his blue tie-dyed underwear, teasing his cock. He'd worn them to please his Dom, and the addition of his shiny motorcycle jacket, his only other piece of clothing, was the perfect naughty counterpoint to his sweet face. His high cheekbones, that soft blond hair sweeping just above his gray-blue eyes, and those plump, pink lips made him look innocent. The heat in his eyes was anything but.
STORY LETTER:
Dear Author,
He watched as the loud, aggressive red-head approached the blond boy on the dance floor. 'Jake' shook his head. The boy was just his type, but he'd found through the grapevine that the blond also came with a ton of baggage. Evidently the boy's ex really did a number on him, enough that his friends held an intervention. But it didn't help, the boy just stopped talking to all of them. Why the kid stayed with his ex for so long 'Jake' couldn't understand, but now the boy was free and still making all the wrong choices. The boy put on a brave front as he laughed, flirted and seemed to revel in the hungry eyes on him. But when he thought no one was watching, the smile slipped away and sadness settled across his features. And each time the boy returned to the club after an encounter, he looked more broken than the time before. But why should 'Jake' care? The boy wasn't his problem. What the kid needed was a shrink. So why did 'Jake' keep thinking about him? Too much baggage he kept telling himself. But every time he looked at the lost boy he couldn't help thinking, "What if?"
Note: Hurt/comfort and emotional healing of both characters. I suppose in a way this story could contain PTSD. Don't make them perfect, I don't like perfect people. I love character growth. For example, 'Jake' (doesn't have to be Jake, I just chose a name), may also have some hidden need to rescue the boy. I'd prefer if he personally wasn't abused, but it could be anything that compelled him to want to 'save' people or this particular person. Something that 'Jake' has buried inside and didn't want to face about himself. I'm curious about what happened with the old boyfriend and does he come back to 'claim' the boy once he's with the new man. I really want this in third person. Angst is great, but this must have a HEA. If there is a bit of an age gap I'd also like that, probably no more than ten years between them. It can be less. NO instant love! Instant lust okay, with love growing between them, but NO instant love. The other thing is I love BDSM, but I understand that not everyone does. If you can make this into BDSM I'd love it. Maybe the boy is looking to submit in the wrong way so that's why he keeps picking the wrong men. Or maybe 'Jake' is a Dom and he's watching the boy at a BDSM club. If it's BDSM I'd like it more about submission than pain, but pain can come in at the end of the story. But like I mentioned, it doesn't have to be BDSM if you don't want.
Sincerely,
Penumbra

STORY INFO:
Genre: contemporary, paranormal
Tags: abuse, hurt/comfort, D/s, graphic sex, Greek mythology, mystical abilities, mind-numbing orgasms, light BDSM
Word count: 36,105
Acknowledgements 
I have to thank a few people. First Penumbra, my eternal appreciation for the great prompt and eye candy for the picture, and for letting me take this story in interesting directions. My family for putting up with my introspection and my readers for forgiving my longer than usual updates to my serial stories so I could write this. Renee Stevens for help polishing up my awkward bits, M.A. Church for her valued input, Julie Hayes for the outline feedback and information on meditations, and Lugh for being a sounding board.
A huge thank you must go to the entire staff of the Love Has No Boundaries event; both moderators and volunteers. A group as big as the Goodreads MM Romance group can only function and create such wonderful events with a strong support system. A final thanks, in advance, goes to everyone who will read this. I appreciate you taking the time to enjoy my work.
Needing You on Goodreads

PDF | Mobi | ePub
Review Needing You on Goodreads