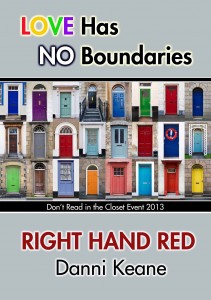 PHOTO DESCRIPTION:
Two young men are positioned squatting one behind the other, on a Twister mat. They are completely naked, with discarded clothes scattered around them. The one at the front has a prominent erection, and his head is turned towards his partner, who has his hand on the other man's shoulder, as he leans in for a kiss.
STORY LETTER:
Dear Author,
Felix and I have been best friends since we had matching lunch boxes in Kindergarten. We've done lots of crazy stuff over the years, but I never expected this. Sure we've messed around, but I can't believe this kiss. His kiss. Oh shit!
No boundaries for this story. Anything goes. I hope I did this right, folks. 
Sincerely,
Vivian

STORY INFO:
Genre: contemporary
Tags: coming of age, friends to lovers, hurt/comfort, first time sex, outdoor sex, young adult characters, British, twinks
Content warnings: underage sexual activity; mention of childhood abuse (emotional)
Word count: 12,105
Right Hand Red on Goodreads (NSFW)

PDF | Mobi | ePub
Review Right Hand Red on Goodreads