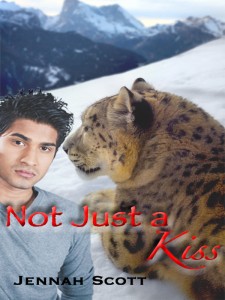 PHOTO DESCRIPTION:
In this black and white photo, two men embrace passionately. They are both nude, and the smaller of the two is in the throes of passion. His head is thrown back and he's grasping the bigger man's head. The male on the left is marking his partner on his neck, and he's holding him so his partner arches his back. His hand is supporting the man on the right's neck.
STORY LETTER:
Dear Author,
I am a kitten, well not those small baby kittens, but a Snow Leopard kitten. As a shifter we can live for a long time, way longer than humans as due to the Shifting of muscles and cells when we Shift, our cells remain young and healthy.
My first shift has just occurred, at 18 years old, so I am still a kitten within the Pride. The Alpha's son is looking for a mate and I have caught his eye. I am not going to give in, but I can't seem resist his charms and attention…
Lots of cuddling, Kittenish play and cuteness! I don't mind D/S relationship, not too hard-core.
Sincerely,
Cherlly
STORY INFO:
Genre: new adult, urban fantasy
Tags: coming of age, hand jobs, Himalayan, leopard, oral, shifters, spicy
Word Count: 16,484
Acknowledgments
This is my second story in the Love Landscape's Anthology, and I want to once again thank everyone for the opportunity to participate. The organizers have been incredibly helpful. Thank you, Cherlly, for the prompt. As this is one of my first shifter stories, this was a challenge, and I hope you enjoy the story. Thank you to my critique partner, Raven. Without your help I wouldn't have been able to do this.
EVENT: Love's Landscapes
Not Just a Kiss on Goodreads (NSFW)
ePub | Mobi | PDF
Review Not Just a Kiss on Goodreads