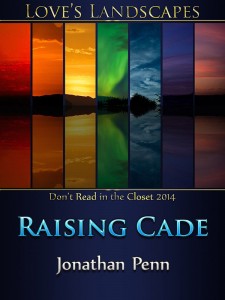 PHOTO DESCRIPTION:
We see a living room with tan walls, the drapes in burgundy and gold. A burgundy leather armchair rests on a Persian carpet. Sitting on the floor in front of this chair, is a muscular man with short-cropped hair. We see only his arms, his splayed legs, and the upper half of his face. The rest of him is obscured by the pale back of the slender young man who straddles him, holding on as if for dear life.
STORY LETTER:
Dear Author,
My name is Cade (back to camera). When I was eighteen, I was raped and beaten by my boyfriend, Eric. I was a virgin. It may be old fashioned, but I wanted to save myself for the man I would spend the rest of my life with. And that wasn't Eric. Now I'm twenty-two. I never thought I would be able to trust another man. Then I met Alan (facing camera).
Sincerely,
Lori
Note: No BDSM or paranormal, please. Would prefer contemporary and definitely want a HEA.
STORY INFO:
Genre: contemporary
Tags: age gap, bear/twink, college student, ex-military, hurt/comfort, prostitution
Content Warnings: graphic violence, rape, PTSD
Word Count: 38,181
Dedication
For Lori, whose creative spirit gave the world these two wonderful men.
Acknowledgements
I greatly appreciate the boundless compassion showered on me in the course of composing this story. My deepest thanks go to Ofelia Gränd, David Guy, Michael Lepard, Guillaume Loup, Debbie McGowan, Nick Pageant, Alexis Woods, and to my best buds Jaye, Kaje, and Leah.
Profound gratitude to David and Leah for generously sharing their knowledge regarding the psychological dynamics of rape victims and the physical manifestations of PTSD.
I'd also like to heap all possible praise on the moderators and volunteers at the M/M Romance group. Their tireless efforts on behalf of authors and readers alike is a source of great inspiration.
EVENT: Love's Landscapes
Raising Cade on Goodreads (NSFW)
ePub | Mobi | PDF
Review Raising Cade on Goodreads