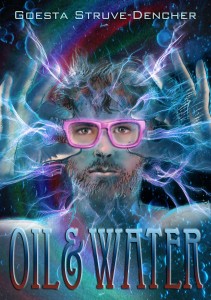 PHOTO DESCRIPTION:
A possibly naked young man, brown hair, close-cropped beard, sensual lips, handsome but presents as a geek. Intently staring, though with unfocussed, slightly crossed eyes. Adjusting his thick glasses. He is dripping wet with drops of water surrounding him as if floating in space– a frozen moment.
STORY LETTER:
Dear Author,
Why the heck is this geek all wet? And why is he looking at me like that. Someone, please, tell him to stop or else…
Sincerely,
Andra
STORY INFO:
Genre: contemporary
Sub-genre: erotic romance with elements of paranormal fantasy.
Tags: paranormal, masseur, surfers, disabilities, illusionism, geeks/nerds, humorous, psychic ability
Content warnings: rampant gay sexuality, apparent non-consensual queer arousal of a straight person, profanity, blasphemy, pornographic use of electricity and concrete poetry, violating the laws of physics and human anatomy.
Word count: 20,463
Dedication
For Jimmy, who inspires my life
and
For Andra, who inspired this story.
Oil and Water on Goodreads

PDF | Mobi | ePub
Review Oil and Water on Goodreads