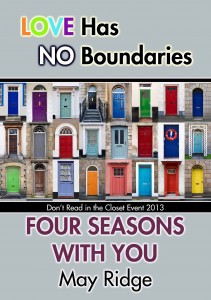 PHOTO DESCRIPTION:
A photo depicts two men: their faces close together, eyes closed, radiating contentment.
STORY LETTER:
Dear Author,
This peaceful moment reflects the love and compassion that these two have for each other. How did they meet and find one another? What stage is their relationship, and what sorts of experiences and emotional growth have they had together? (Possible friends-to-lovers, if the muse takes you there.) Any genre (fantasy, contemporary, historical, etc.) is fine if it helps the story flow for you.
P.S. If possible, I'd prefer something without extreme amounts of angst. Also, no non-con/dub-con/threesome/infidelity/cheating, please. Slow burn and romance would be great to read. Please give them an HEA. Thank you so much!
Sincerely,
Marie
STORY INFO:
Genre: contemporary
Tags: friends to lovers, slow burn/unresolved sexual tension, roommates, long time crush, sweet no sex
Word count: 10,255
Four Seasons With You on Goodreads

PDF | Mobi | ePub
Review Four Seasons With You on Goodreads