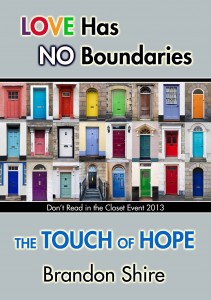 PHOTO DESCRIPTION:
Two slightly lanky, dark-haired boys are embraced, one behind the other. One boy has his hands inside the pockets of the hoodie of the boy in front of him. This small gesture hints at an unfamiliar reassurance that he plans to make his intimacy more than words will allow.
STORY LETTER:
Dear Author,
I got tired of my dad using me as a punching bag, so I packed some clothes and left our apartment one day while he was at work. Life is tough, but I learned that living on the streets is even tougher.
When I thought things couldn't get much worse, Erik suddenly appeared before me, just like an angel. Is this a dream or are the drugs making me hallucinate? What is he running from? Why won't he tell me about his past? Can I trust him? 
Sincerely,
Nancy
STORY INFO:
Genre: contemporary
Tags: young adult, coming of age, barely legal, first time, hurt/comfort, homophobia, HFN
Content warning: teens having sex and inferred small-time drug dealing
Word Count: 13,523
The Touch of Hope on Goodreads

PDF | Mobi | ePub
Review The Touch of Hope on Goodreads