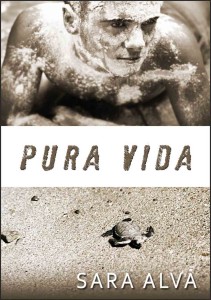 PHOTO DESCRIPTION:
A young man lies on his stomach at the beach, sand all over his chest, neck and face. From the slight glare he's giving, it seems as if he's just fallen and is now looking up at the person responsible.
STORY LETTER:
Dear Author,
I was on the beach, running through the cold waves that licked at my feet. I thought I was alone as I began heading back. Of course, he would have to show up right then, right where I didn't expect him. I tripped over my own damn feet, ending up sprawled into the fine white sand. It work its way everywhere, sticking to the sweat coating my body. My chest heaved as I stared up at him.
So, I set a scene in the story. Where will you take it from here? What is the back story? Is the 'he' showing up a friend, enemy, or love interest? Acquaintances or is he a stranger lusted after from afar? What is about to happen? Who is the main character in the story? Why is he running alone and why did the other character's appearance shock him so much?
Author's choice on genre, as long as there is a new romance involved and you don't have to use first person. I don't care if the characters are friends before or strangers before the romance begins (not insta-love unless you're doing paranormal please).
Sincerely,
Alicia
STORY INFO:
Genre: contemporary
Tags: new adult, summer love, travel, vacation
Word count: 25,411
Acknowledgements
Many, many thanks to:
Alicia Nordwell for the wonderful prompt and for sparking my imagination with hers
My amazing betas, Madison Parker, Dani Alexander, and Tim, for helping me bring this story from Word document to novella
Madison (again) for the fabulous cover art
And to the LHNB team for working tirelessly to make this event a success!
Pura Vida on Goodreads

PDF | Mobi | ePub
Review Pura Vida on Goodreads