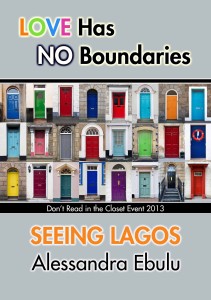 PHOTO DESCRIPTION:
Photo 1:
An aerial view of a city's bridge. In the background are several high rise buildings,
and in the foreground, a multitude of cars are parked in an open space, with African people
walking by the area.
Photo 2:
A face bright with a smile, deep brown eyes, and a head full of dreads. The man's
dark skin, a beautiful contrast to his white teeth set off nicely by his eyes.
STORY LETTER:
Dear Author,
I have no photograph to post, because all I want is a story set in some place that never or
rarely appears in M/M Romance. Maybe someplace like Kiribati, or Singapore, or Lithuania,
or Botswana. Take your pick, dear author.
I have no preference whatsoever about the content of the story. It can be whatever you want it
to be, as long as at least one of the MCs is native to the unusual setting, so we get some
insight into the local culture.
Everything else is up to you.
Sincerely,
Kathleen

STORY INFO:
Genre: contemporary
Tags: holiday, Africa, sweet no sex, mini-travelogue, nervous breakdown recovery
Word count: 6,220
Seeing Lagos on Goodreads

PDF | Mobi | ePub
Seeing Lagos on Goodreads