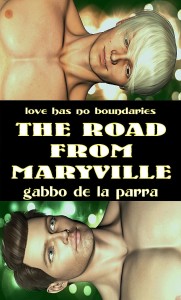 PHOTO DESCRIPTION:
A bare-chested, handsome man, with big arms and a perky nose, reads a book (yes, a book― not an e-reader) on his stomach over a light-colored carpet. The nice thing is, he has his round tanned butt exposed because his cargo shorts are way below the curve (almost reaching his thighs) leaving all that delicious flesh visible for us to enjoy. Did I mention he has the cutest dimples flanking his coccyx?
STORY LETTER:
Dear Author,
Their Mom guilt-tripped him and his brother into coming home for at least a week for Easter. So this Detective took off two weeks from work, his brother was supposed to come to him from college so they could both drive there together (their mother lives in another country/state). Oh, and their mother was looking forward to meeting their partners, too, which wouldn't be that bad, had his not dumped him a month ago. Nope, he still hasn't told his mother, since she would just arrange for sons and daughters of her neighbors to visit them when he came home.
Of course, his last day at work isn't going well. Some ass hit his car, so he actually had to use public transportation. He had to fight off the advances of a drunk on the Tube and got beer spilled all over his favorite T-Shirt. Then his female neighbor tried to seduce him, again, when he arrived at his flat.
The day couldn't get worse; at least he thought so before finding his brother having sex with a blond twink on his couch, who is apparently his squeeze of the week. The guy is a history major who is apparently looking forward to visiting the sights in their hometown, and who hated him on sight. After going out to a party and leaving his sick boyfriend behind, his brother finds someone new and actually dumps the twink on him while driving to the beach with his new partner.
Do you know what their mother suggested after he told her the story? To take the twink home with him!!! ("You can't leave the poor boy alone in such a state.")
Please let them have an interesting trip and find to each other on this holiday!
I'd love HEA and enemies to lovers, but I'll take being prejudiced or reserved.
Please, no BDSM, ménage, incest, open relationships or instant love.
Sincerely,
Fehu
STORY INFO:
Genre: contemporary
Tags: enemies to lovers, flavored implements, shooting enthusiast, road trip, NYPD
Word Count: 12,101
The Road From Maryville on Goodreads

PDF | Mobi | ePub
The Road From Maryville on Goodreads